If you read the blog post about my sister, you might have noticed she's from the east coast of North Carolina and she's been a proud "Cackalacky" native her whole life. I've always had a bit more mixed feelings about my birth state. Like my fictional head dweller, Davis, I tend to like Florida better, though I haven't lived nearly as many places or had anywhere near as many awful experiences as Davis.
Growing up in Carolina, I always had the sensation that I'd crash landed from a place where tea wasn't sweet and everything wasn't fried. Not so much that I was switched at birth because my family is clearly mine — hell, my sister and I tend to have very similar interests even though if graphed our passion spikes would be on different things. (She's a reader the way I'm an environmentalist and vice versa.) We're different people, but we're obviously related. In general, though, I talk too fast, walk too fast, and unless I'm angry or drunk, don't drawl or brogue enough to seem quite Southern. (I also detest 98% of all country music and line dancing is never going to be a thing I figure out how to do.)
But "Southern" is misleading in that it makes it all seem the same. Rural Georgia and Rural NC may have a lot of similarities, but they aren't the same. That said, along the coastal regions of the southern states, you find more similarities across states. Eastern NC and eastern SC are more alike than eastern NC and the mountains or the Piedmont.
If you look at a map of North Carolina, you'll notice a string of barrier islands and blobs of peninsula jutting out into sounds. The bottom peninsula is Carteret County and east of its last town large enough for fast food is a string of communities known as Down East (Not to be confused with the more famous Down East in Maine.) Down East NC and the neighboring barrier islands were so isolated for so long (before better cars, more adventurous tourists, radio, TV, and the internet) that the residents developed their own dialect known as High Tider (Hoi Toider) with their own slang as hear below.
Being from Beaufort (bow-fort), I grew up hearing the Down East brogue and being familiar with slang. In town, the dialect blended with the less-prominent eastern NC southern accent and had become more watered down by more interaction with outsiders (dingbatters and yankees). Then again, sometime around when I learned to read, I started making a conscious effort to sound less like a local and more like a tourist. Never feeling like I really fit in, I guess, made me want to be more like the people who got to go back to what seemed like more exciting places at vacation's end. I now live someplace where I happily watch the tourists go home to snow while I wear flip flops and tank tops.
I always knew that area would end up in a story. (And that the story wouldn't involve cliffs and mysterious stone houses in an area that, in reality, is a swamp that floods the road at high tide.)
The older I get, the more I appreciate having grown up there and the experiences it afforded. As an adult, I can admit the little towns are charming and I've grown to realize that the sulfurous smell of a salt marsh is always going to remind me of "home" whether it's a mangrove tangle off the Everglades or the muck around Harker's Island. That said, Eastern NC still doesn't feel like home and there's a good chance I'll never make it to a high school reunion. 😉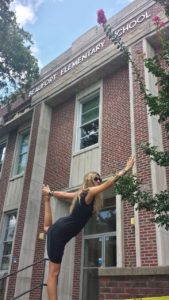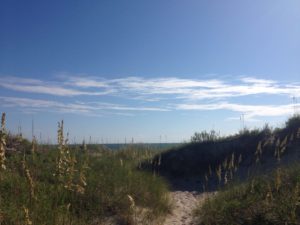 What reminds you of home?