Last year during Boucheron, I was at home. This year, the plan is to be in New Orleans with all the crime fiction fans who can make it. (Don't let anyone tell you it's not an expensive trip. In the end, this convention will end up costing, for 5 days—including travel time—about double what our summer road trip cost for two people and 7 days.)
I'm excited. It'll be great to see old friends again and be surrounded by people who like books and reading.
Hey @chrisfholm @niidasholm @nelizadrew … remember our first Bcon? Us with @Brad_Parks and @jcharbonneau 🙂 2011 pic.twitter.com/a1y8p0b9Ew

— Sabrina E. Ogden (@sabrinaogden) September 10, 2016
I'm also nervous because crowds and I aren't big fans of each other and because travel makes me anxious. Air travel especially makes me anxious, but less so the actual plane and more that my brain is convinced I'm going to forget The Most Important Thing — an indescribable item I can't get on the other side and can't live without. I've tried explaining to my brain about the concept of stores and taxis, but it's skeptical. I also worry when I have to trust other people and air travel involves a lot of trust — and a lot of proof it's misplaced.
*fingers crossed*
So, my itinerary:
Wednesday
4pm Noir at the Bar Afternoon Delight in LaGalleries 6 ( at the conference Marriott)—FREE books!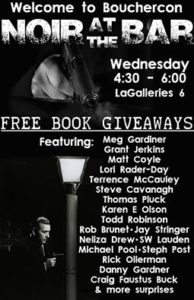 9pm likely heading over to watch the second Noir at he Bar After Dark (718 Rampart)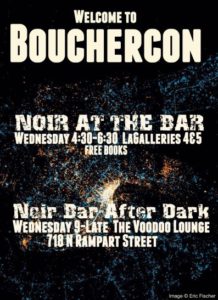 Thursday
Touristy stuff.
Watching some random panels.
Likely hitting the Down and Out Books event.
Friday
11-11:50 time- keeping volunteer at Uptown Funk (LaGalleries 6)
3:30-4:20 checking out The Boxer panel (LaGalleries 1)
5:30 "Second Line" parade with everyone else
8pm Cheering on friends at the Anthony Awards
9:30ish SOHO/Crimespree party (Ernst Café)
Saturday
9-9:50 time-keeping volunteer at Killing Time (MardiGras E)
10:30-11:20 spectator at The Soap Opera Song (MardiGras ABC)
5:15 door monitor volunteer at Crime Goes Global (Bissonet)
If you still need to scribble out your own plan of attack for this year, I'm attaching my schedule blanks.
Bouchercon Schedule (PDF) Bouchercon Schedule (Excel)